The price of oil rose in 2021 and peaked at $ 85. What are the best oil and gas companies to invest in in 2022? Here are a few that go unnoticed: Earthstone Energy, Berry Corporation and DMC Global.
All the players in the financial markets have closely followed the evolution of the price of oil this year. After falling below zero in 2020 due to the COVID-19 pandemic, oil's rebound was nothing short of impressive.
It peaked above $ 85 before falling into the $ 65 support area. Nonetheless, the rise of – $ 40 to current levels has resulted in a turnaround for oil and gas companies this year.
Here are three oil and gas stocks that are going unnoticed that you might consider buying in 2022: Earthstone Energy, Barry Corporation, and DMC Global.
Earth Stone Energy
Earthstone Energy's share price has risen more than 94% this year. It is a The Woodlands, Texas-based company engaged in the oil and gas exploration and production industry. It operates over 100 oil wells and was founded in 1969.
EPS is expected to increase significantly over the coming period. Thus, EPS should almost double over the next few quarters.
Earthstone Energy operates with a gross profit margin of 80.03%, more than double the industry median. In addition, the Non-GAAP P / E (FWD) ratio is more attractive than the industry median – 10.70 versus 11.19.
Berry corporation
Berry Corporation is an American energy exploration company based in Dallas, Texas. It operates in the western United States and manages more than 3,700 oils in net production. The company pays quarterly dividend and the dividend payout rate is 71.43%, while the TTM dividend yield is 2.44%.
Of the 8 analysts who cover the stock, 2 have buy ratings, 5 have neutral ratings, and only one analyst has sell ratings. Over the next two years, EPS is expected to increase at least five times and reach $ 1.62.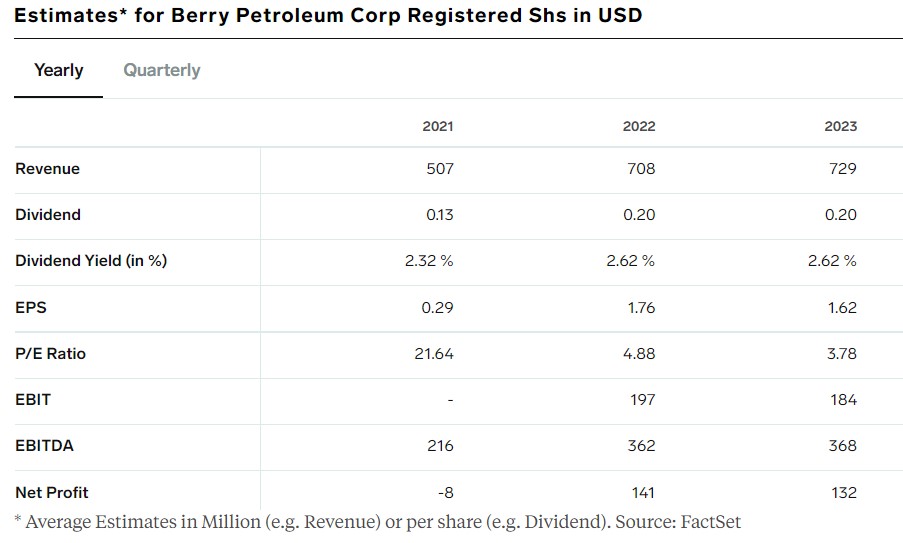 Global DMC
DM Global is a US-based company engaged in the oil and gas equipment and services industry. Based in Broomfield, Colorado, it employs over 500 people and was founded in 1965.
This is another company that plans to steadily increase its quarterly EPS over the coming period. For example, EPS for the first quarter of fiscal 2022 is expected to increase 350% compared to the same period last year.