The crypto market is no stranger to volatile ups and downs, and the twists and turns and forced sell-offs as we see in the contracts market are far too thrilling. Without knowledge of how to take profits and stop losses, it is very likely that you are at a disadvantage in the crypto business.
With "Take-Profit and Stop-Loss", users can set the trigger price in advance (i.e. Take-Profit price or Stop-Loss price), so that when the market price or the last price reached the predefined price, the market order (s) will be systematically triggered and will liquidate all positions at the best price, to achieve the "Take-Profit" or "Stop-Loss" objective.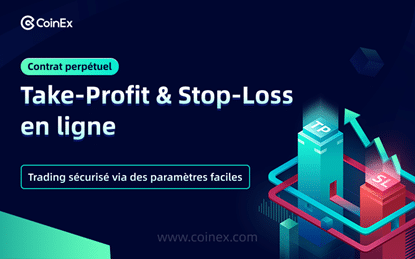 If you don't take your profit on time when the market rises to your expected level, you risk losing it when the market goes down. The same goes for the stop-loss. If you do not stop the losses in time, the position may be liquidated. Therefore, by taking profits and stopping losses in time, investors can maximize profits and minimize losses. This proves to be an effective means of risk control, and therefore is essential for anyone pursuing wealth in the crypto world.
In order to improve users' efficiency and trading experience, and make trading in various contract negotiation scenarios more convenient and flexible, CoinEx launched the "Take-Profit & Stop-Loss" feature on November 1, 2021 (not available on the APP at the moment) on its website. By clicking TP / SP (Take-Profit / Stop-Loss) on "Current Positions" on the contract trading page, you can set Take-Profit or Stop-Loss separately or simultaneously.
The parameters concerning Take-Profit and Stop-Loss are as follows:
Position
Surgery
Trigger price range
LONG
Take-Profit
Trigger price> Open price
Stop-Loss
Forced liquidation price ≤ Trigger price ≤ Opening price
SHORT
Take-Profit
Trigger price
Stop-Loss
Opening price ≤ Trigger price ≤ Forced liquidation price
ONLY liquidation of ALL positions is available for "Take-Profit & Stop-Loss" use. Before the "Take-Profit & Stop-Loss" parameter is triggered, it doesn't matter if you add or reduce the position, all positions will be closed once the price is triggered; when the "Take-Profit & Stop-Loss" parameter is triggered, all pending orders on the current market will be systematically canceled.
Users can log into the CoinEx website to try out the Take-Profit & Stop-Loss feature on the perpetual trading page, and enjoy greater efficiency from perpetual trading. CoinEx will provide users with more diverse crypto-asset trading services by leveraging its comprehensive risk control system, premium products, and constantly updated trading system.
FollowCoinEx Facebook | Twittr
Contact us Support | Telegram