The US dollar is on the rise – the dollar index hit highs in 2021 following much stronger than expected inflation data for October. What does the technical image indicate?
The US inflation data for October was released yesterday and it surprised on the upside. As measured by the CPI or Consumer Price Index, the prices of goods and services in the United States rose 0.9% month-on-month despite expectations of a 0.6% increase. Additionally, core CPI data, which excludes volatile items such as food and energy prices, rose 0.6% despite expectations of 0.4%.
As a result, the US dollar strengthened. Core inflation in the United States is at its highest for 30 years, and traders have increased bets that the Federal Reserve will not remain indifferent and be more aggressive in tightening monetary policy.
One way to measure the strength or weakness of the dollar is to interpret the dollar index – a geometric weighted average of the dollar's value against a basket of currencies. The euro has the largest weight (57.6%) in the basket, and the remainder belongs to currencies such as the Japanese yen, the British pound, the Canadian dollar, the Swedish krona and the Swiss franc.
Although it hit a new high for the year, the technical table calls for caution for the period ahead. Indeed, more strength could emerge in the short term, but strong resistance is emerging on the horizon.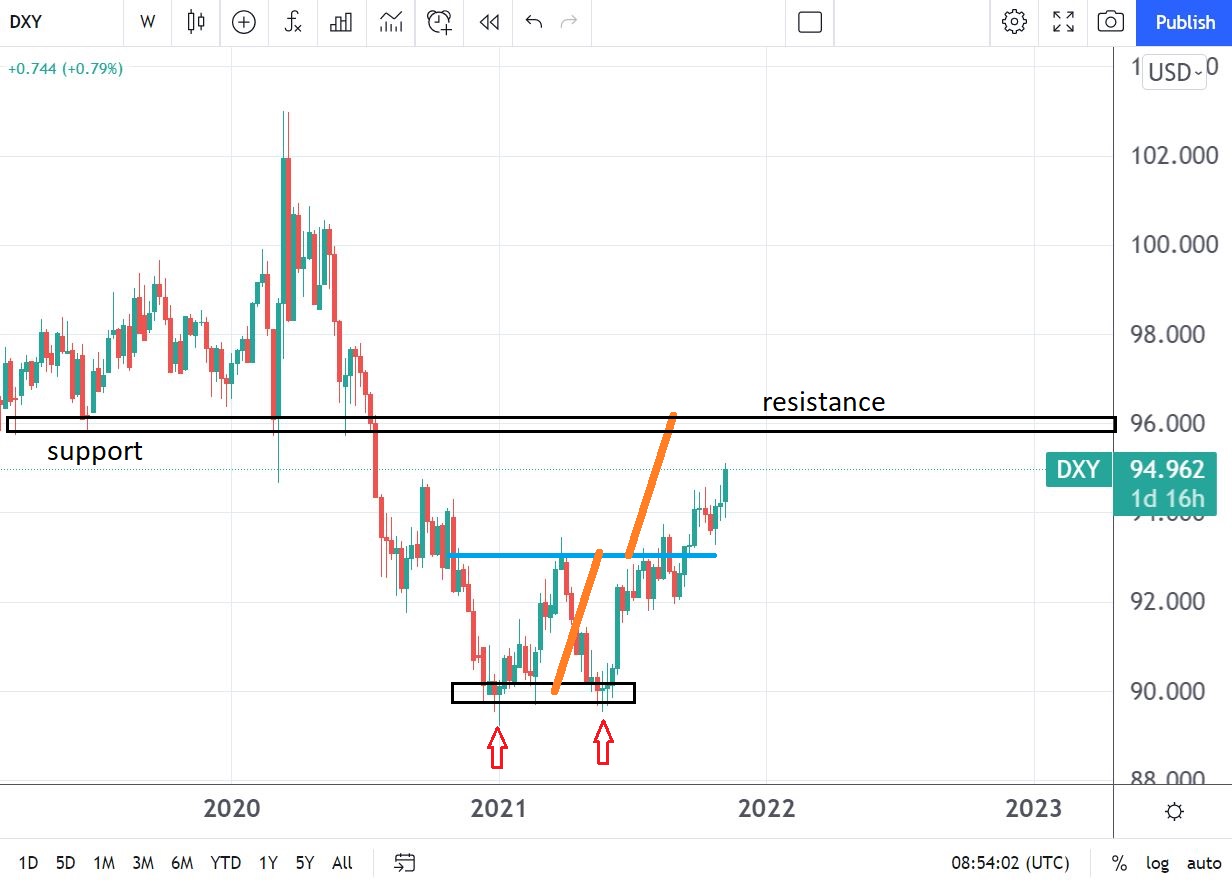 Strong resistance awaits us
The year 2021 started with the dollar index at its lowest. The pressure remained through the first few months of the trading year, despite a small rebound fueled by the EUR / USD pair rising from 1.23 to 1.17 at the start of the trading year.
Subsequently, the Dollar Index formed a double bottom pattern with a measured movement pointing to 96. In other words, the technical picture reveals that there is still room for the Dollar Index. , but caution is in order. Area 96 turns out to have provided strong support in 2019 and 2020; so if we respect the principle of interchangeability, support should turn into resistance now.
In other words, the buyers of the dollar index would likely hedge some of their positions before the market hits 96. Therefore, we should expect that EUR / USD, the dominant pair in the l index, finds a near-term low.