The FTSE 100 reached support in the area as early as 7,250 after struggling to break higher. Is it time to buy before a year-end rally?
The FTSE 100 Index traded in a narrow range for most of the year. It struggled to exceed 7,500 points and consolidated below from May to November. However, it did manage to break higher and hit 7,400 before the current decline. The big question now is whether the support holds up and is it the right place to buy for a possible Santa rally?
From a technical point of view, this is as good a place to buy as any other. According to the principle of interchangeability, support levels turn into resistance and vice versa. This is precisely what happened here – resistance turned into support, giving the opportunity to go long. Traders willing to take a chance need a stop loss order at 7,000, while aiming for a new high above 7,400.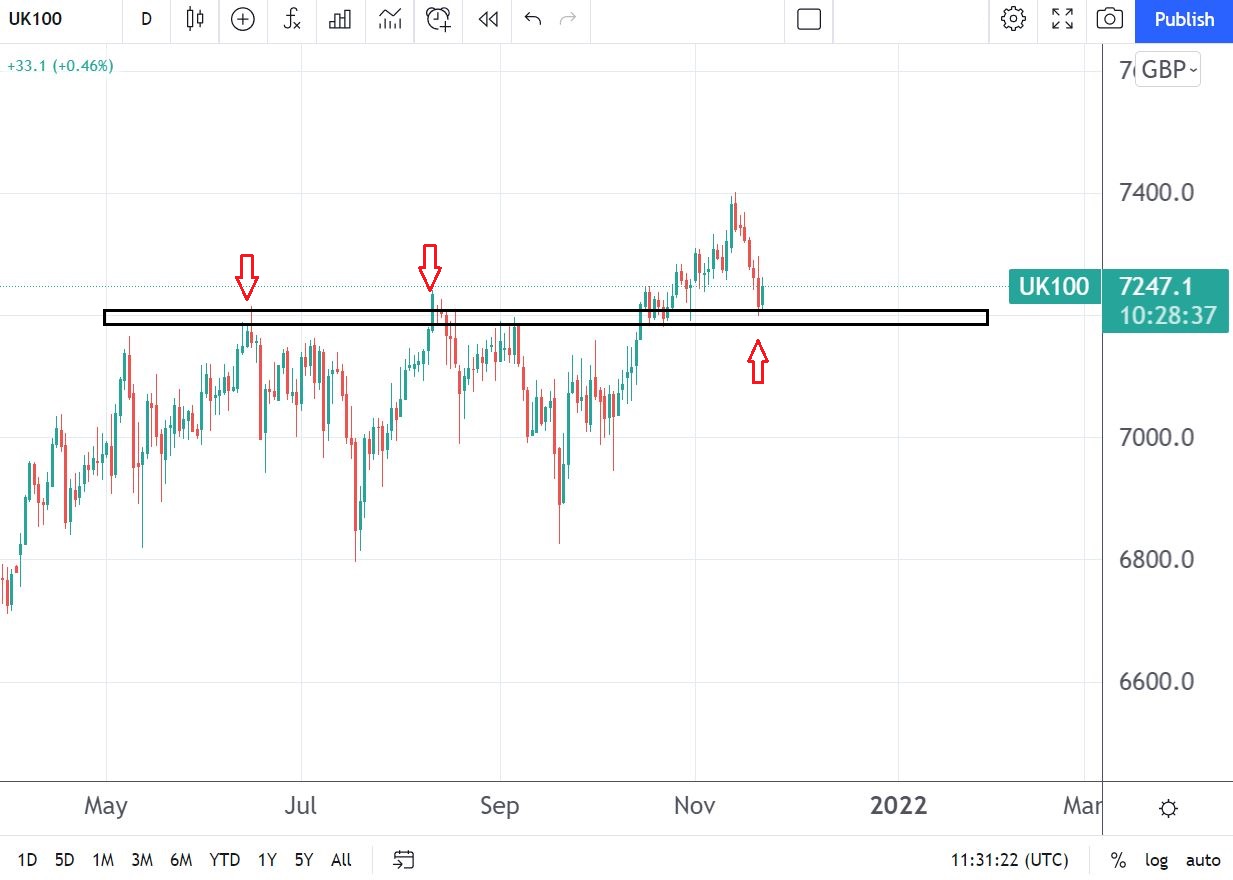 The Bank of England goes hawkish again
One of the main obstacles to a higher level of the stock market is the hawkishness of the Bank of England. In October, Governor Andrew Bailey suggested the central bank might be on the verge of a rate hike in response to rising inflation.
However, despite market participants' expectations for a rate hike, the Monetary Policy Committee failed to deliver one at its last meeting. This is one of the reasons the FTSE 100 broke through the resistance zone of 7,250 and rallied to 7,400.
Meanwhile, Bailey again voiced hawkish comments. Last week, he said the central bank could not remain indifferent to higher prices, those paving the way for monetary tightening. Indeed, it seems the Bank of England is closely following in the Fed's footsteps by becoming hawkish.
If so, the FTSE 100 will struggle to reach new highs. Nonetheless, the technical chart looks bullish above 7,000. Therefore, the recent decline may provide an opportunity for the end of the year for traders willing to take the risk and buy from the old resistance turned into support.