Gold has lagged risk asset price action in 2021 despite US inflation hitting 7% in December. The technical chart finally looks bullish, as gold tends to do well in times of rising inflation.
One of the most curious divergences during the COVID-19 pandemic has formed between inflation and the price of gold. Historically, gold served as a hedge against inflation.
Despite runaway inflation, gold has underperformed since August 2020. At the same time, Bitcoin, considered by many to be the new "digital gold," hit new all-time highs. For many, and especially younger retail traders, it was a confirmation that the days of gold are long gone and a new inflation hedge was born.
But this is not the first time that gold has deviated from inflation. In fact, it often does, and history tells us that gold does well in times of rising inflation.
Is it time to buy gold? Can we see a new all-time high in 2022?
Gold's bullish setup points to a new all-time high
The technical picture looks bullish here. After hitting a new all-time high in August 2020, gold once again fell below $2,000. However, with about a year of consolidation, gold bulls have reason to hope for another push to reach 2020 record highs.
First, gold made a double bottom just below $1,700. This is a bullish pattern and calls for a sharp reversal.
Second, technical traders may notice an inverted head and shoulders pattern, albeit unconventional, judging by the falling neck line. Nonetheless, the rules of the pattern still hold, so bulls are watching closely for a move above the neckline as a sign of new strength.
Such a break indicates more strength, and there is no resistance up to all-time highs.
Gold outperforms in times of high inflation
Before dismissing gold's role as an inflation hedge, it's worth taking a look at historical data. For those who don't use technical analysis to predict future price levels, historical data can help.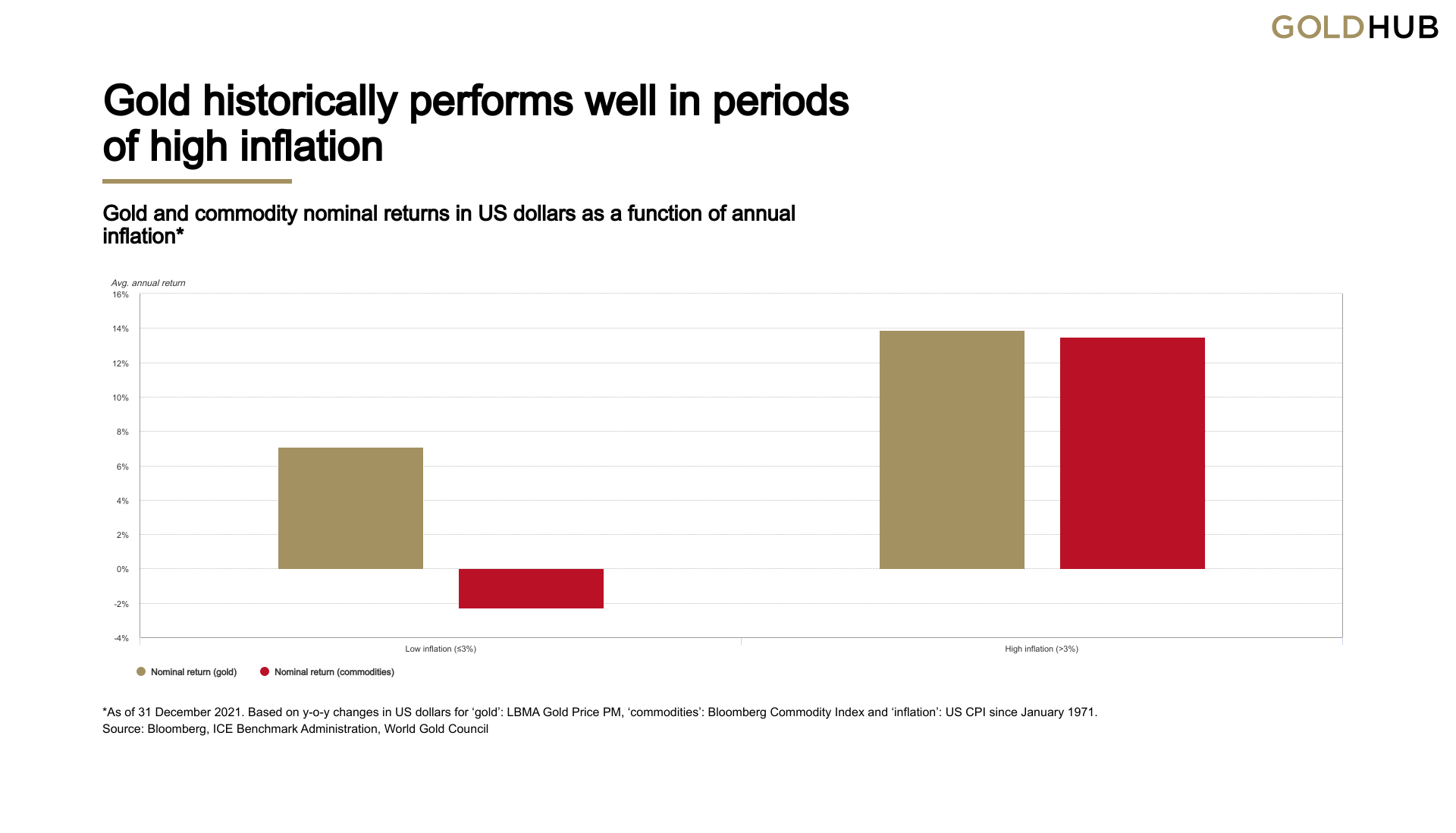 Historically, gold has done well in times of high inflation. Specifically, in years when inflation was above 3%, the price of gold increased by 14% on average. Additionally, gold has outperformed long-term inflation.