Not your key, not your cryptos – Liechtenstein-based cryptocurrency exchange LCX has confirmed the compromise of one of its hot wallets, after temporarily suspending all deposits and withdrawals on the platform.
Hackers steal $6.8 million from LCX
It is PeckShield, a blockchain security company, which first identified the flaw. Indeed, several transfers suspects of ERC-20 tokens from LCX to an unknown Ethereum (ETH) wallet caught his eye.
The probable compromise of the wallet was quickly confirmed by LCX, which announced the loss of many tokens. Among them: ethers (ETH), USDC (USDC) and other tokens, including its internal token LCX.
According to the PeckShield investigation, the hackers stole 6.8 million of dollars in cryptocurrencies.
LCX confirmed taking security measures to protect other wallets and assets. On the other hand, she called for the support of the community:
"During this difficult time, we greatly appreciate the support of our customers, fellow exchanges, security experts, and the broader crypto community. »

LCX
<< Buy your bitcoins easily through the KuCoin crypto platform (affiliate link) >>
LCX assures that none of its customers will be impacted by the theft
Initially silent on the losses, LCX has since communicated, through a tweet, to reassure its customers.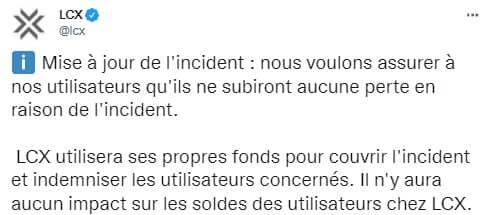 The stolen cryptocurrencies have, for their part, been exchanged for ETH on the decentralized exchange platform 1inch, then sent to Tornado Cash. An operation that makes fund tracking extremely complex.
One more hack in the crypto ecosystem. According to a recent report by security platform ImmuneFi, crypto companies suffered losses of over $10.2 billion in 2021 due to hacks, scams, and other malicious activities. We can never say it enough. To protect your cryptocurrencies, turn to cold storage !
To invest in crypto, it is better to go through the historical exchanges of the cryptosphere: register on the KuCoin platform and start trading your BTC or other cryptos there today! (affiliate link)