If there is a cryptocurrency that divides opinions, it is most certainly Ripple's XRP. Ripple and its token are among the historic players in the crypto ecosystem and have one of the largest communities in the cryptosphere. Here is our full review!
What is Ripple and its XRP token?
When we mention Ripple, we immediately think of its cryptocurrency, the XRP. Nevertheless, Ripple's business, technology and ecosystem are not necessarily synonymous with XRP. Ripple does leverage the capabilities of XRP in its ecosystem, but it is not the company's only asset.
Advancements in technology have dramatically changed the speed at which information travels around the world. However, the circulation of capital remained tedious.
Ripple Labs has therefore set itself the mission of becoming the reference payment network for institutional players. For this, the company exploits XRP and a series of technologies that allow it to accelerate the movement of funds while reducing costs.
The team behind Ripple Labs
Initially, Ripple, known as RipplePay, was a money transfer platform, launched in 2004 by Ryan Fugger. Fugger's goal was to create an over-the-counter lending system and then evolve it into a decentralized monetary system.
A few years later, in 2011, Jed McCaled was developing a consensus system to achieve consensus without mining. McCaled hired Chris Larsen in 2012 and they both approached Frugger to merge their projects.
In September of the same year, the 3 friends founded OpenCoin, which would become Ripple Labs in 2013. Although early Ripple technologies, including Ledger XRP, were thought up by McCaled, these are Arthur Britto and David Schwartz who built them.
The objectives of Ripple, the payment protocol for banks
Ripple's goal is to reduce costs, but also ofincrease the speed of international transactions. Currently, international bank transfers take approximately 3 to 6 days and it becomes a real lack of transparency on transaction fees and transfer status.
Ripple positions itself as a very serious alternative to Swift, with many advantages. The solution is faster, more secure and more flexible, while being less expensive. The network now has more than a hundred clients, including several very influential banks (Santander, UBS, Crédit Agricole and American Express). It is not not mandatory to have XRP to use the Ripple network. However, the use of the token helps to further reduce transaction costs and is therefore encouraged.
Ripple's products
Ripple operates 3 major products : RippleNet, XRP Ledger and Ripple X.
RippleNet
RippleNet is a global network that financial institutions can use to transfer money faster, with more transparency and at a lower cost. Ripple previously had the products xRapid, xCurrent and xVia. However, the company has chosen to combine them into a single product in 2019: RippleNet.
RippleNet also offers a feature known as on demand liquidity (ODL). This feature allows XRP to be used as a bridge between fiat currencies. If a party has euros and its partner wants to receive dollars, the ODL system will automatically perform the conversion, going through XRP.
XRP Ledger and Ripple X
XRP Ledger is a open-source blockchain on which the XRP token operates. However, XRP Ledger and the XRP token operate independently from the Ripple company, although Ripple uses both for various solutions. Nevertheless, the Security and Exchange Commission (SEC) questions this independence, but we will come back to this later.
XRP Ledger is a first layer solution, just like Ethereum and Bitcoin. Therefore, Ripple's partner financial institutions can build applications on it. XRP Ledger is not based not on proof of work (PoW), as is the case with the Bitcoin blockchain nor on the proof of stake (PoS). The XRP network does not produce blocks, but "registers". Each ledger contains information, such as data linking it to the previous ledger in the chain, account totals, … The absence of mining and stacking means that all XRP have been premined. Therefore, the total supply of XRP was quite centralized for long years. This has led some crypto-enthusiasts to shun the project as too centralized.
Finally, RippleX is a blockchain apps directory which Ripple partners can use to deploy solutions related to value transfers, Ripple's DNA.
Forget the slightly typed XRP Army of social networks, buy your cryptos with KuCoin (affiliate link) >>
Is XRP a securities (financial security)? The Cryptosphere Saga
The class action of 2018: Ripple against its investors
The legal sage of Ripple and XRP begins in 2018. Ryan Coffey and 10 anonymous retail investors accused Ripple of conducting an unregistered financial securities sale. Nevertheless, the case was quickly abandoned by plaintiffs, without knowing the reason. Some months later, Vladi Zakinov and 25 investors filed a second class action, on the same grounds. Investors claim that Ripple tricked them into selling XRP to them, as investors expected to make profits, but suffered losses.
As you can see below, XRP appreciated by more than 1,400% in 1 month between 2017 and 2018. Investors who bought XRP around the top felt aggrieved and started legal proceedings. 3 years later, the second case is not still not resolved, after a federal judge declined to dismiss the case in 2020.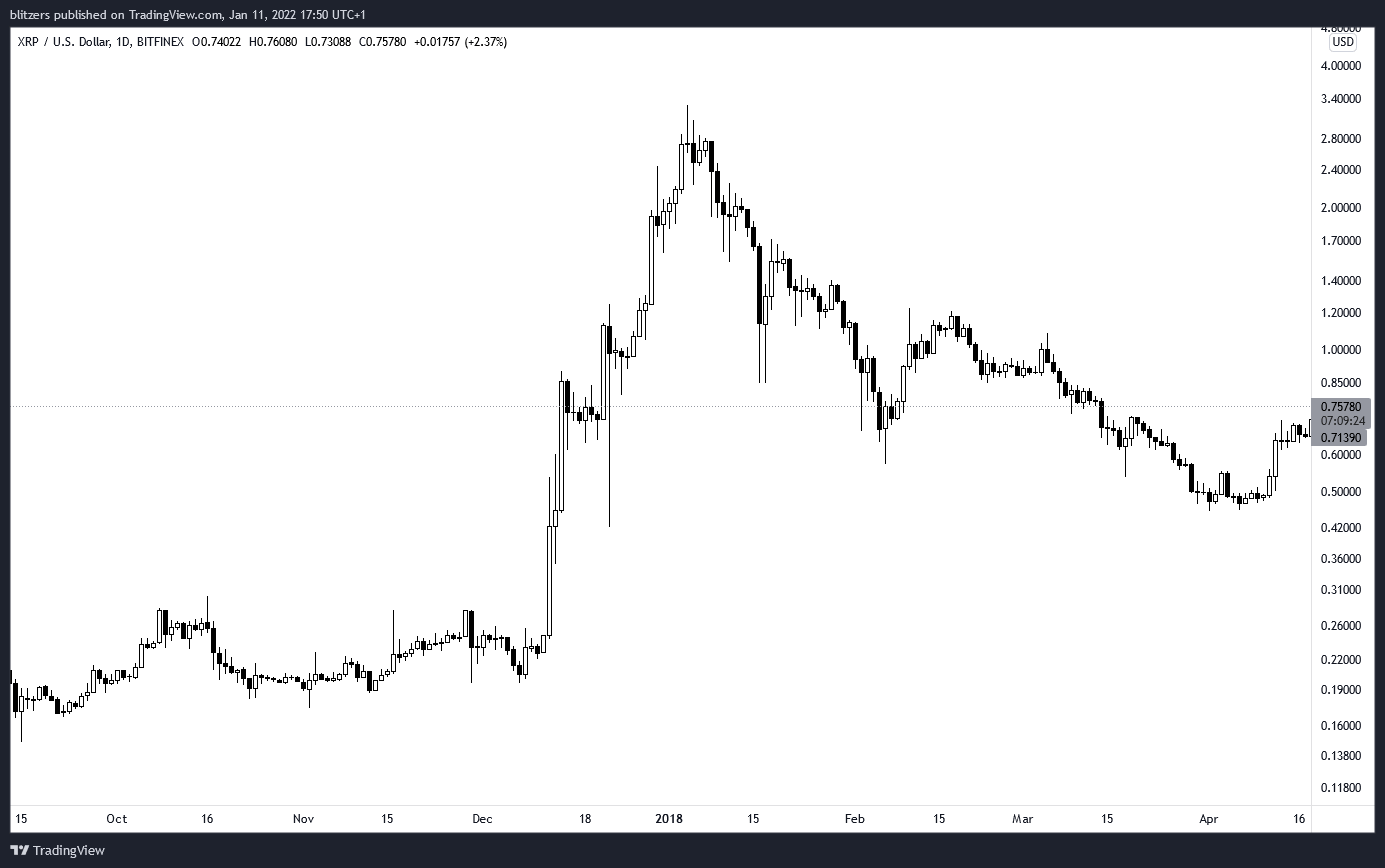 Ripple against the SEC: the cryptosphere saga
the December 21, 2020, the SEC has started a lawsuit against Ripple, as well as its CEO, Brad Garlinghouse, and its co-founder, Chris Larsen. The SEC accused Ripple and its executives of carrying out a sale of unregistered financial securities Between 2013 and 2020. Ripple is accused of conducting a sale of $1.3 billion worth of XRP illicitly.
Garlinghouse and Larsen are charged with $600 million in illicit sales, personally. As we saw earlier, XRP was pre-mined and distributed, so Larsen and Garlinghouse held large amounts of it and sold it over several years. As a result of this complaint, the price of XRP crashed by 40%, but that was only the beginning of trouble for Ripple.
Since the December 28, Coinbase announced that she would withdraw XRP negotiation from January 19, 2021. The asset had only been listed on Coinbase in February 2019, after long months of lobbying by the Ripple community. Afterwards, bit stamp and Crypto.com also had the asset offloaded. Finally, Grayscale closed access to its XRP investment products.
Since, Ripple, Garlinghouse and Larsen cross swords with the SEC through a lawyer. The lawsuit was announced in December 2020, but the initial phase of the lawsuit will only end in the fall of 2021. During the expertise phase, Ripple and the SEC gathered evidence. Ripple, for example, asked the SEC to reveal whether its employees were allowed to trade XRP. For its part, the SEC demanded that Ripple share all of its Slack communications.
Either way, this high-profile case could be particularly damaging to Ripple if its outcome were negative.
Where to buy XRP?
For citizens of the United States, it can be difficult to buy XRP. Indeed, the majority of exchanges have not yet restored trading. Nevertheless you can buy XRP on FTX, kraken or on the general Binance site.
The pros and cons of XRP
The advantages of XRP
Ripple offers a very effective solution to speed up interbank transactions, which can now be completed in 2-5 seconds.
Ripple allows significantly reduce costs international transactions.
The Ripple network does not only process transactions in XRP. It can also be used for fiat currencies.
Ripple is used by financial institutions.
The disadvantages of XRP
Ripple strengthens the position of banks, by providing them with effective blockchain technology in response to the decentralized cryptocurrency ecosystem.
Tokens are pre-mined. There is therefore no no possible reward mechanism for those who wish to participate in network security.
Ripple is fairly centralized, since its foundation and leaders own large amounts of XRP.
The token XRP is still not used a lot, despite the development of RippleNet.
The Ripple Labs legal wrangling and its leaders can have a negative impact on the project and its token.
On the technological level, Ripple must be recognized for the quality of its architecture and its notorious efficiency. This is certainly an advantage for the banks, but also for all the multinational companies carrying out cross-border transactions every day, and whose cash flow is currently a victim of the slowness of transactions.
Ripple allows banks to exploit to their advantage a technology initially intended to circumvent them. The opinion we have of Ripple ultimately depends on our convictions. Ripple is not the champion of decentralization, on the contrary. This is what makes it one of the most divisive projects in the cryptosphere. However, XRP has generated a craze that few projects can boast of. The token has been able to maintain its place in the top 10 digital assets. And Ripple is showing tremendous resilience, despite its run-ins with the SEC.
Ripple has not said its last word and will continue to make headlines in crypto acts for a while… What if you bought your first cryptocurrencies and prepared for the future by registering on the KuCoin reference platform ? Save 10% on your trading fees by following our affiliate link!