The S&P 500 is approaching record highs one trading week before the end of the year. What is the outlook for 2022, given that the Federal Reserve (Fed) has turned hawkish?
The Fed delivered a hawkish surprise in December by doubling the pace of its asset purchases. Additionally, the dot plot showed central banks planning to make several hikes next year.
Faced with a hawkish Fed, the stock market ceded part of its earnings. However, as the S&P 500 chart shows, December's pullback was just that – a simple pullback.
With only one week of the stock market remaining in the year, the S&P 500 is trading near all-time highs. What drives the stock market up despite the central bank going hawkish?
U.S. financial conditions are easiest ever
One explanation for the continued strength of the S&P 500 is the fact that, despite the hawkish pivot of the Fed, US financial conditions remain near their lowest on record, as shown by an index produced by Goldman Sachs. The index takes into account various factors, such as the movement of the dollar or the funding costs for the US government.
All things considered, we find that financial conditions have not changed since the Fed's announcement. As long as they remain so, stock market advances will continue.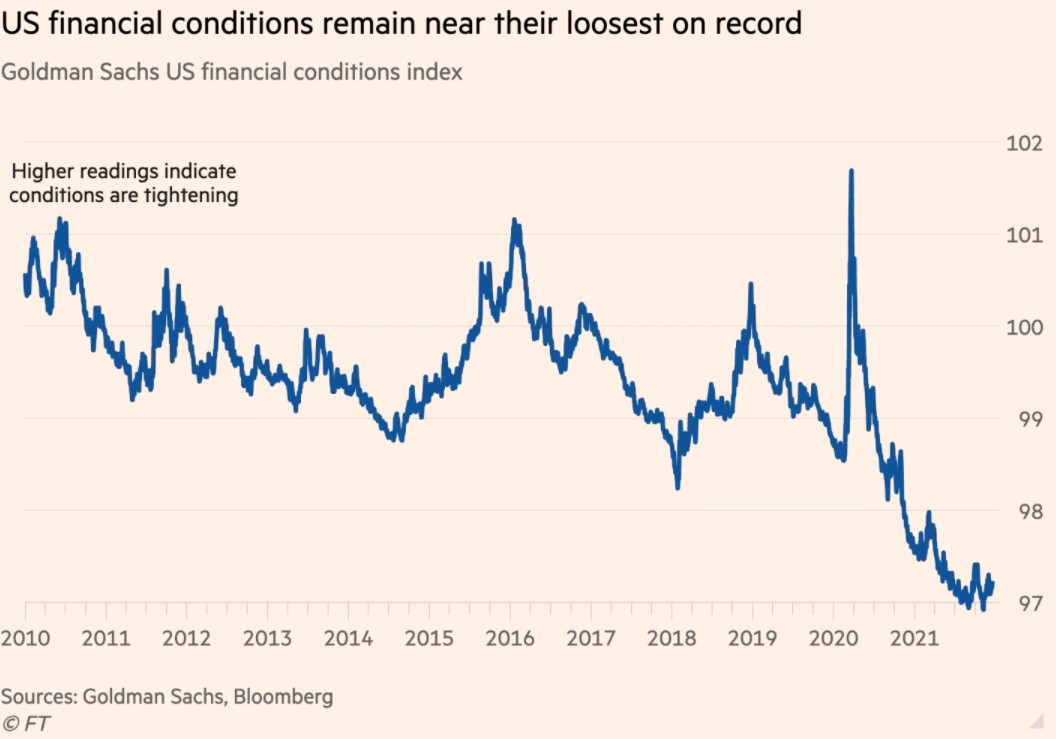 5000 – the path of least resistance
From a technical standpoint, there is little to no resistance until the next level of the S&P 500 Index. A move to 5,000 points appears to be the path of least resistance, especially as the index has held the highest streaks and lows since the 2020 bear market.
Inflation – the biggest risk for stocks
Inflation is the biggest threat to stocks. Yesterday, the Core PCE price index (ie the Fed's preferred measure to measure inflation) once again surprised on the upside. The market had expected a monthly increase of 0.4%, but the release showed that the index gained 0.5% on the month.
The Core PCE price index hit 4.7% per year, the highest since the start of 1989. The big difference between now and then is that the Fed's target rate was 9.75%, so that it is now close to zero. If inflation remains high, the Fed will need to tighten even faster than currently expected, triggering a significant correction in the stock markets.