What goes up must one day come down – Thomas Pesquet will not say otherwise, and neither will the course of the Shiba! Following a dizzying rise which created a few new millionaires (if they had the presence of mind to escape from this hell), the price fell violently.
Hello Houston? We have a problem !
After a phenomenal 2021 with almost 57,000,000% upside (who says better?), the most busted dog-headed wedge in the cryptosphere seems to have returned to its niche. He finally posed at a lower price of 65% at its ATH (all time high, the highest known price).
Initially launched as a big joke, the Shiba saw its popularity explode during October 2021. It must be said that this month will go down in history as the one that will have seen the birth of as many dog-headed memecoins as NFT projects with the heads of zombie nutria exploded on the ground.
Unfortunately, this runaway was obviously not due to much: all it took was one Elon Musk moderately inspired, but well accustomed to controversy. He will just have replied to a tweet asking him if he had any shiba inus.
The response was as swift and violent as the price crash that followed it: no.
After eclipsing Bitcoin in terms of research on google, the frenzy around the hard-haired corner died down violently. Public interest in this active is passed from " wow this is bitcoin killer " at " yeah I got some, didn't sell when I could have, now I cry and have canine nightmares every night".
Easily buy your cryptocurrencies thanks to the KuCoin crypto platform (affiliate link) >>
Did Floki kill Shiba?
Beyond the fact that this title makes no sense, the Floki also experienced a spectacular increase, this time following another Elon Musk's tweet, positive this one.
Will the arrival of the dog with a Viking helmet confirm Rollo's statements in the eponymous series? " Never forget to finish your opponent if you can".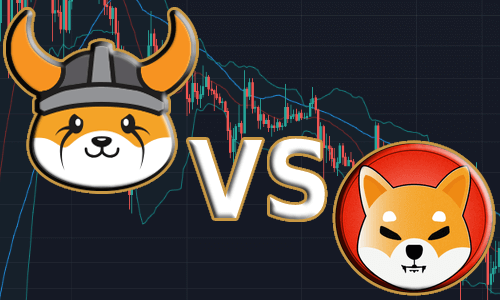 Where then does the shiba will see its volumes rise and thus be reborn from its ashes? everything is still possible!
We must not forget that beyond the joke aspect, the corner inspired by Doge has its army that is loyal to it (like Lassie) and offers a semblance of an ecosystem, which is not even the case with its "competitors".
Supported by Vitalik Buterin, with an aspect committed to the animal cause (support from the Shiba Rescue Inu foundation), the (shit)corner can still be talked about in 2022 and try to beat its own records.
Whatever your opinion of the Shiba Inu, whether you are bullish or bearish about its future, be careful. Take the time to analyze the courses, the volumes and above all the project. Invest only what you are ready to lose even if it's for fun with an offbeat project!
No matter how much we howl with the wolves and warn of the chronic uselessness of these appalling memecoins, there will obviously always be people ready to bet on their survival… or their killing. On your side, buy your bitcoins quietly with Kucoin, using our affiliate link!