2021 has been a year marked by rising inflation and uncertainty surrounding the COVID-19 pandemic. Three asset classes outperform in such an environment: Bitcoin, Oil WTI and S&P GSCI.
Rising inflation was the dominant theme in 2021, but rising prices for goods and services in the developed world have not led investors to resort to the classic hedge – gold. Instead, other asset classes outperformed, such as Bitcoin, WTI Oil, and the S&P GSCI Index.
Here is a technical analysis perspective of the top three winners in 2021. Can they outperform other assets also in 2022?
Bitcoin
Bitcoin hit two all-time highs in 2021. While trading in a bullish tone for most of the year, failure in the $ 65,000 area puts a possible double-top pattern into question.
Additionally, despite gaining 59.8% in 2021, Bitcoin traded in a bearish tone during the last two months of the year. We can notice a head and shoulders pattern with the neckline at $ 45,000. A breakout and close below triggers a race to the measured movement seen much lower, around $ 15,000.
WTI Oil
While the technical situation for Bitcoin currently looks bearish, the opposite is happening with WTI oil. Oil gained 56.4% in 2021 after recovering from negative 2020 levels.
On the way up, it hit several highs and peaked at $ 85 in late October. However, the rejection was not strong enough to break the streak of higher lows, keeping the bullish bias intact. While the dynamic support in the $ 65 area holds, the path of least resistance remains on the upside, and traders should not be surprised to see WTI oil reach a new high.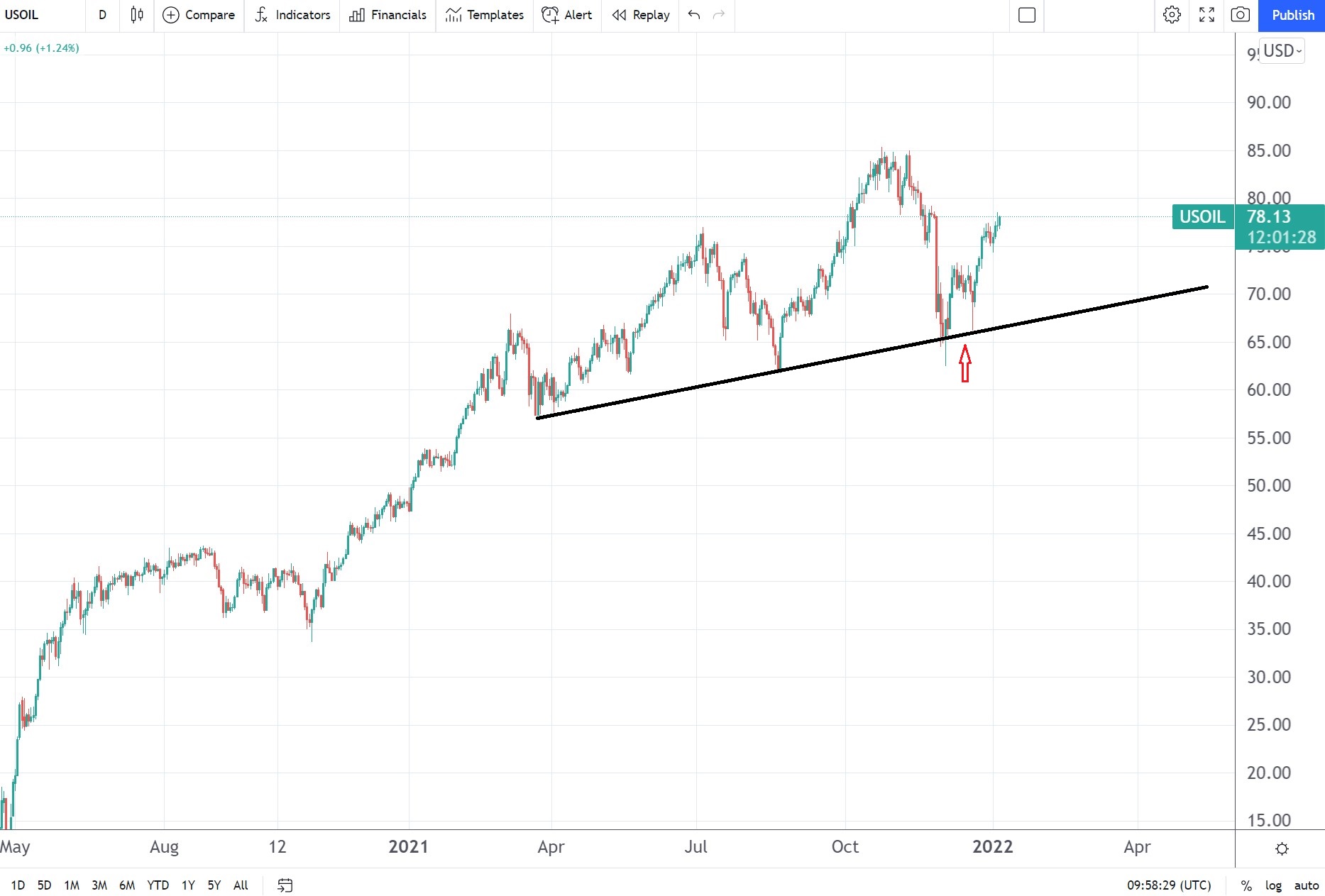 S&P GSCI
In third place in 2021, the S&P GSCI index follows a pattern similar to that seen in WTI oil. GSCI stands for Goldman Sachs Commodity Index, and it reflects investors' hedging against inflation. It delivered 37.1% in 2021, outperforming the S&P 500 or Russell 2000 indices.
Much like WTI Oil, the index reacted to dynamic support in the $ 520 area and rebounded. It is now aiming for a new, higher high, and if inflation continues to rise, the path of least resistance remains on the upside. As such, another $ 600 attempt is likely.